CUSTOM COURSES AND CLINICS
OFFERED TO SUIT INDIVIDUAL REQUIREMENTS
Gift Certificates Available
For Christmas , Birthdays, Anniversary Gifts
For Any Of Our Classes
COAST GUARD OPERATOR'S CERTIFICATE:
This "on the water driver's license" is now mandatory in Canada. A one day clinic followed by the CYA Spark Start Exam will provide the certification necessary to operate a power boat of 10 hp or greater in Canadian waters.
Full course cost including certification is $65.00
Challenge only $40.00, offered by appointment.
RESTRICTED RADIO OPERATOR'S CERTIFICATE (MARINE)
Register early to receive course materials for pre-study. Materials consist of extensive text and interactive CD with radio simulator. Total cost including lifetime certificate with DSC endorsement is $150.00, plus GST.

Register early to receive pre-study package.

Next Class - TBA September
please contact us for you are interested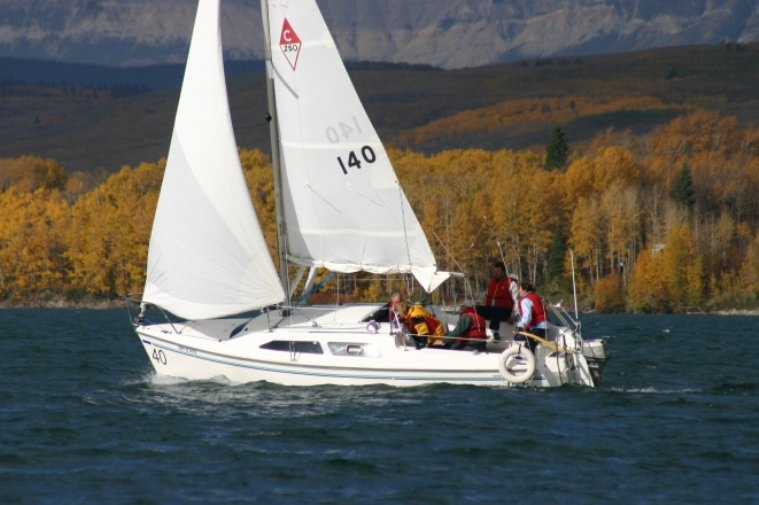 Offered at the Ghost Lake Provincial Park, 20 minutes west of Calgary on the 1A highway. No prerequisites except a willingness to learn and have fun. Total cost of $950.00 includes CYA International Cruising Logbook, text and various materials. A $300.00 non-refundable registration deposit is required to hold the dates you desire as class size is limited. Shortly after receipt of the deposit, your logbook, text etc. will be delivered to you.
First you decide on a classroom session where we learn the theory portion of the course. Second, pick an on the water session for 3 full days of hands on instruction. By the end you will be comfortable as skipper on a small keelboat, by day in moderate wind and sea conditions.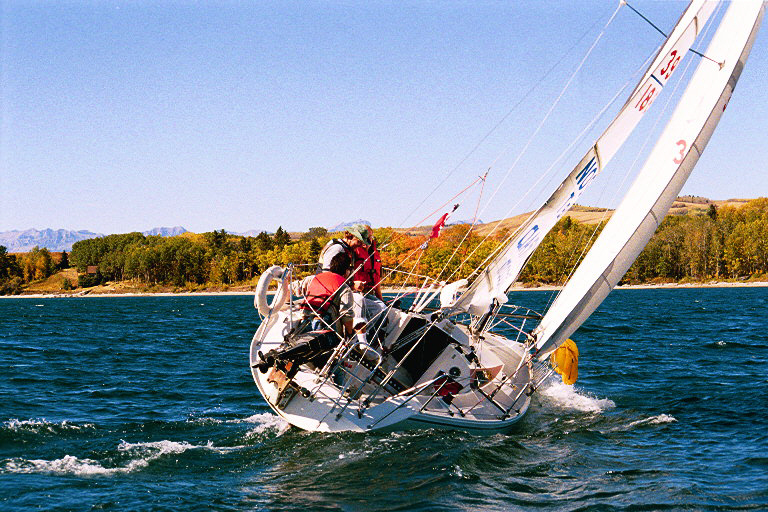 CLASSROOM SESSIONS, 2016:

Class runs Friday evening, all day Saturday and Sunday. Class session ends with the writing of the Coast Guard Operators Certificate exam and CYA Basic Cruising Theory exams Sunday afternoon.

CL1 - May 6,7,8

CL2 - June 10,11 &12

CL3 - August 19,20,21


AFLOAT SESSIONS, 2016:
Maximum 4 students per session. Classes will be run on Catalina 250 keelboat. Three days on the water where you will learn everything necessary to feel comfortable as skipper in moderate wind and sea conditions on a variety of boats. Conditions on the Ghost Lake can be much more challenging! You will learn to reef early and reef often!

WC1 - May 21, 22,23

WC2 - May 27,28,29

WC3 - June 10,11,12

WC4 - June 17,18,19

WC5 - July 1,2,3

WC6 July 8,9,10

WC7 July 15,16,17

WC 8- August 26,27,28

WC9 – September 3, 4, 5

WC10 - September 9,10,11
WC11 – September 16,17,18
WWW.GHOSTLAKE.COM
TO REGISTER, CONTACT GHOSTLAKE SAILING ACADEMY INC HERE

DALE SPICER
403-861-4999
email: ghostlakesailing@msn.com
For details of Course Content, Click Here

---
COASTAL NAVIGATION:
Class runs two consecutive weekends. You will learn the principals and practices required for prudent coastal navigation and piloting. The basic questions of "Where am I?" and "How do I get there as quickly as possible?" - or - "How not to go bump in the fog" will be dealt with. Total cost of $450.00 includes all texts, navigation instruments and chart. Register by early as it takes a while to get all the materials together.
Next Class - TBA September
please contact us for you are interested

To Register, contact Altitude Cruising Corp here and receive your complete navigation package ASAP.
For Course Content, Click Here